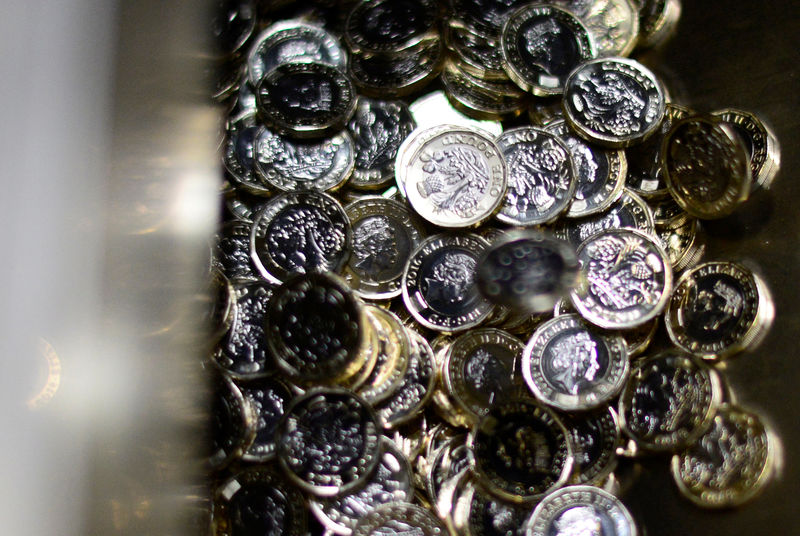 © Reuters.
Investing.com - Sterling fell on Wednesday after reports that the French government sees a no-deal Brexit as the baseline.
Reuters reported that a top official in French President Manuel Macron's office said no-deal is most likely after the fallout from U.K. PM Boris Johnson demanding the EU drop the Irish backstop.
Johnson demanded on Tuesday that the backstop be removed from the divorce deal. The backstop agreement is an insurance policy to keep the Irish border open after Britain leaves the European Union.
GBP/USD fell 0.4% to 1.2120 as of 10:44 AM ET (14:44 GMT). EUR/USD was flat at 1.1094.
Elsewhere, The U.S. dollar index, which measures the greenback's strength against a basket of six major currencies, was flat at 98.072, as traders wait for the release of the Federal Reserve meeting minutes from July. The notes, expected at 2:00 PM ET (18:00 GMT), will give insight into whether or not the central bank will continue to ease its monetary policy after cutting rates by 25 basis points in July.
The Fed is under pressure from both investors and U.S. President Donald Trump to keep cutting rates. Earlier this week Trump said the central bank should cut rates by as much as 100 basis points, while on Wednesday he claimed the Fed was the only downside to the state of the economy.
"Doing great with China and other Trade Deals. The only problem we have is Jay Powell and the Fed. He's like a golfer who can't putt, has no touch. Big U.S. growth if he does the right thing, BIG CUT - but don't count on him!" Trump wrote on Twitter.
The Japanese yen, which is seen as a safe haven in times of market turmoil, fell with USD/JPY rising 0.2% to 106.40.
Original Article